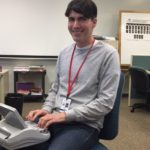 Students come to court reporting school straight out of high school, as military veterans, or quite often, as career-changers. Randy Wolpin, a student at Atlantic Technical College in Coconut Creek, Fla., has a number of successful careers on his résumé. Now he's ready to take on one more. Wolpin shared his story with Up-to-Speed.
My background is in sales and marketing, business acquisitions, real estate, historic preservation, zoning, and community development. I've been a business owner for more than 19 years. I'm a licensed real estate managing broker in Florida, Georgia, and Illinois.
My professional background started in the music business, exclusively representing Thin Lizzy, EMF, Corey Feldman (actor), Leif Garrett (actor), and countless others and receiving album credits from Thin Lizzy and Mike Tramp's White Lion. I secured record contracts for more than a half a dozen artists, including a demo and rarities from Marilyn Manson and Paul Di'Anno (front-man for Iron Maiden).
In addition, I was cited by Dave Thompson, the editor of Rolling Stone and U2 biographer, in his book Alternative Rock, as creator of a critically acclaimed tour: The Social Chaos Tour 1999, credited as one of the top 75 tours of all time. I have been mentioned in the credits on the Howard Stern Show twice, as well as in two pages in Paul Di'Anno's best-selling book, The Beast. Following my exit from the music industry, I owned a Smoothie King Franchise in Plantation, Fla., as well as an Assist-2-Sell Franchise in Atlanta, Ga. I've been a re-developer and a historic preservationist. I am very inspired by the program at Atlantic Technical College and look forward to bringing my business skills and applying them in the court reporting industry.
UTS | How did you get interested in court reporting?
WOLPIN | While residing in Atlanta, Ga., one of my real estate clients introduced me to court reporting. She is a firm owner who has made quite a name for herself in the industry. I had never been exposed to the court reporting industry, even though my sister is an attorney in the state of Mississippi.
UTS | What kind of support system do you have at home or at school?
WOLPIN | After closing my Assist-2-Sell Franchise in Atlanta, I sold my home and moved to South Florida. I presently care for my 81-year-old mother who I stay with in Tamarac. I am a full-time student and spend about 4-8 hours a day practicing with little interruption, while learning to master my new interest in stenography. My family loves and supports my new endeavor.
UTS | Do you have a mentor?
WOLPIN | My instructors, Ms. Debra Hill, CRI, and Ms. Susan Williams, are the best in the industry. Their combined experience has allowed me to move forward at a significant pace, while learning the fundamentals, developing proper work ethic, and striving for the accuracy that is required in this amazing industry.
UTS | What do you enjoy most about court reporting school?
WOLPIN | Court reporting school has been a very challenging and rewarding experience. The concepts and the implementations of the program become easier with practice. I am always challenging myself to grow with the applied theories that continue to build upon each lesson. It is a very tactile and unconventional educational program that could be compared to learning and perfecting a musical instrument.
UTS | What's the best advice you've been given so far?
WOLPIN | Practice, practice, practice.
UTS | Who or what inspires you?
WOLPIN | Freethinking, intelligent professionals who have a love for historic preservation, the arts, and the pursuit of happiness.
UTS | What is your dream job?
WOLPIN | Continuing my entrepreneurship as a firm owner while being closer to my daughter.