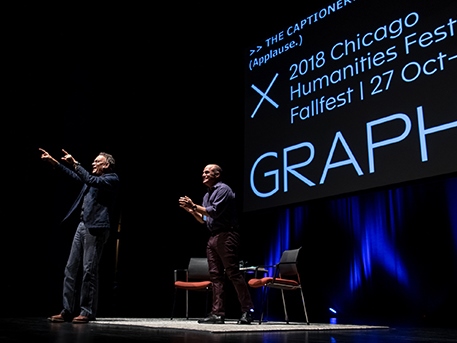 NCRA member Jo Gayle, RPR, CRR, CRC, a freelance captioner from Chicago, Ill., recently earned a shout-out from actor Tom Hanks for her captioning skills during an event held by the Chicago Humanities Festival. The JCR Weekly reached out to Gayle to find out more about being recognized by an international celebrity for her skills. The JCR Weekly also reached out to Brittany Pyle, director of production and audience experience for the Chicago Humanities Festival, to learn more about the benefits captioning brings to audiences.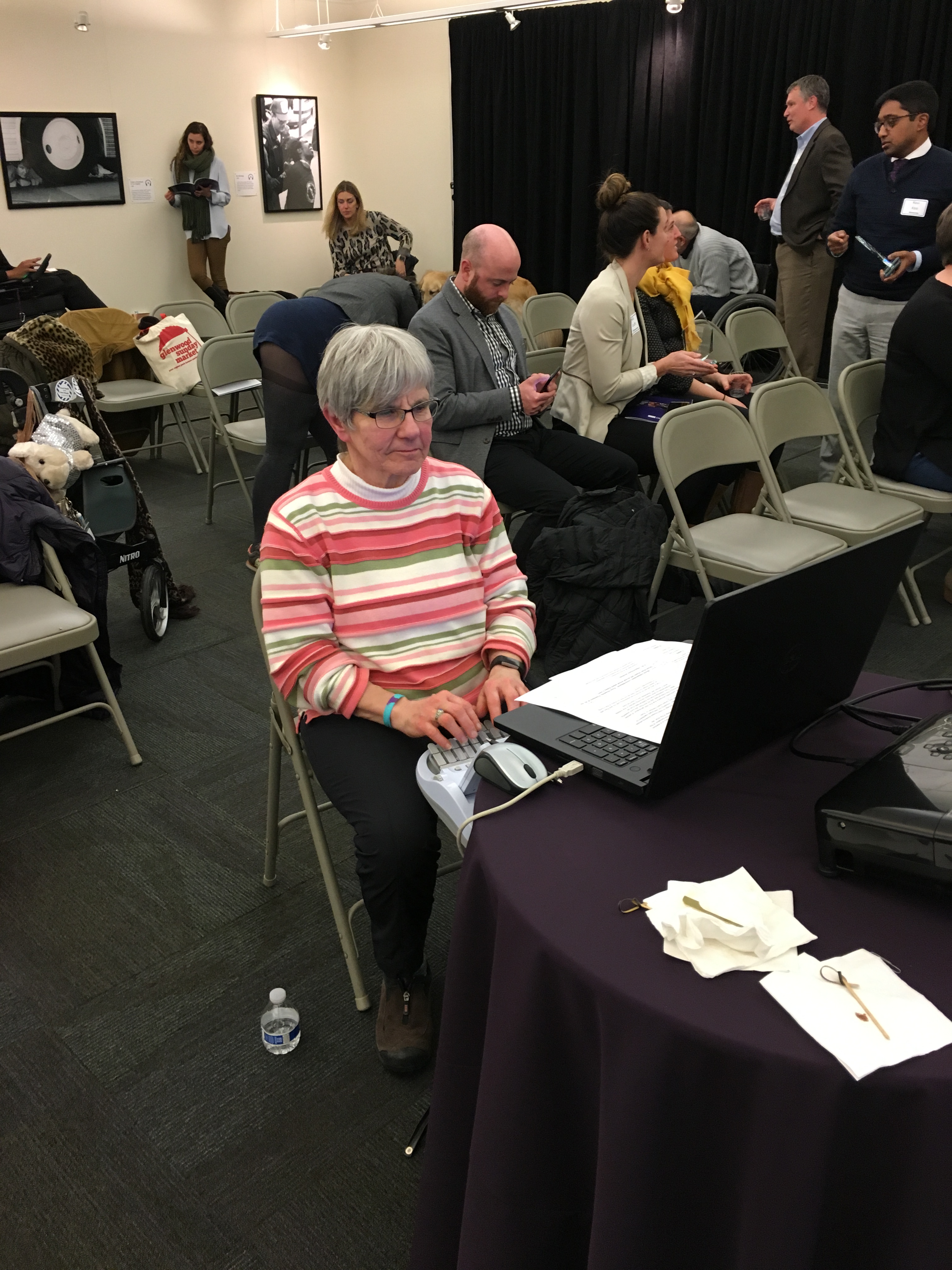 JCR | How did you connect with the Chicago Humanities organization?
JG | I was asked by a captioning company to caption some of their events.
JCR | How long have you been captioning for them?
JG | Three years, since fall of 2015.
JCR | What types of events do you caption for them and how often?
JG | I started out just captioning a few events, but this fall I did 15 events as well as a day-long marathon of interviews that I split with a remote captioner. The events are either interviews or lectures, and the Humanities Festival chooses which ones will be captioned based on audience interest and accessibility requests.
JCR | What do you enjoy most about working with this organization?
JG | They are extremely accommodating when it comes to making sure I have a comfortable and accessible work space. Also I've enjoyed the diversity of events and the famous people I've been able to caption: Alan Alda, Gloria Steinem, Al Gore, and James Comey, just to name a few.
JCR | What were you captioning when Tom Hanks gave you a shout-out?
JG | He was doing an interview with Peter Sagal of NPR to discuss his love of writing and his collection of short stories, Uncommon Type.
JCR | Did you know he was going to do that?
JG | What happened was they did not know the event was being captioned and only discovered it when they looked at the screen behind them that was going to display audience questions.
Here's the back and forth from the transcript:
PETER SAGAL: We have a couple of questions from members of the audience who submitted them earlier. We selected a few. We'll put them up on the screen.
TOM HANKS: Oh, really?
PETER SAGAL: Yes.
TOM HANKS: I thought this was a temporary graphic.
I just realized that. Has that gone on? So you get to say I read the best interview with Tom Hanks. Anybody deaf that is actually doing it? Anybody hearing-impaired?
PETER SAGAL: Hello, I am the person typing the captions.
THE CAPTIONER: That's me.
(Laughter and applause.)
TOM HANKS: Let's hear it — are they up here or back there?
THE CAPTIONER: I'm up here.
(Laughter and applause.)
PETER SAGAL: That's great.
We actually do have some questions for you so we can put them up.
TOM HANKS: That is hilarious. I'm sorry. That is just fantastic. I'm sorry, that is truly fantastic.
"Which character in your book do you love the most and why," says Jill. There you go. We want Jill's name up there twice. I think that's fabulous.
(Applause.)
JG | I felt I had to insert myself in there so they would know it was an actual person doing the captioning and not voice recognition or artificial intelligence.
JCR | What was your reaction?
JG | I got a big kick out of it, but I was overwhelmed when I received this email from him through the Humanities Festival:
You tell Jo Gayle that she made our night! A personality to go with those magic words! It was an honor to share the stage with her! Tell her that, or better yet, send her a text one word at a time … It was a grand night,
Tom Hanks
JCR | Did you get to meet him?
JG | No, unfortunately.
JCR | Have you met any other celebrities through this work?
JG | Alan Alda is the only celebrity I've met.
JCR | How long have you been a captioner?
JG | I've been a court reporter since 1980, and I transitioned into CART in 2004. I don't do broadcast captioning, only CART captioning. Transitioning into CART was the best career move I ever made!
JCR | How did you learn about the court reporting/captioning profession?
JG | After four years of college and two years of grad school, I couldn't find a job in what I majored in (mass communications), so my father, who was an attorney, told me about the court reporters he worked with and actually found a reporting school for me. I looked into it and found my niche.
This whole experience has been unreal. From getting the shout-out from Tom Hanks to having the event posted on both the NCRA and Illinois Court Reporters Association Facebook pages and in an email from the Chicago Humanities Festival to their subscribers has been beyond my wildest dreams! And the recognition from my colleagues is the topping on the cake!
---
Captioning provides accessibility
Here is what Brittany Pyle, director of production and audience experience for the Chicago Humanities Festival, said about the benefits that captioning brings to audiences.
JCR | How long have you offered captioning services to your audiences?
BP | We implemented open captions at our events in fall 2015.
JCR | What prompted your organization to begin providing captioning of your events?
BP | The Chicago Humanities Festival is committed to accessibility for all audience members. Back in 2015, I was learning a lot from my involvement with the Chicago Cultural Accessibility Consortium (CCAC). Based on audience feedback, I sensed that many people in our audience identified as being hard of hearing, and some audience members were deaf but ASL interpretation was not their preference. Being able to understand what a person is saying on stage is the primary value of our events. It became clear to me that making realtime captions available and visible to everyone in the room was going to be a clear benefit to our audience's experience.
JCR | How long have you used the services of Jo Gayle?
BP | We've worked with Jo Gayle since the beginning of utilizing live event captions in 2015. We also work with a few other talented captioners in Chicago. We have so many events running at one time that we often need more than one captioner on a given day!
JCR | You mentioned that she is your go-to person for captioning services. Why is that?
BP | Jo has amazing accuracy. I'm very impressed by how she can listen to a fast talker rattle off complicated terminology and get it perfectly right on the screen. She works very hard to prepare for our events. She and I work together in advance to make sure she has everything we know about a particular speaker, words they might use, the correct spelling of names. Jo does a lot of prep work on her own, looking up videos of that person, learning their speech cadence, things they often talk about when they're giving a presentation. If our audience members can spot her in a theater, they will flock to her after an event to thank her for how much her captioning helped them get more out of the event.
JCR | What would you say to other organizations considering offering captioning services to their audiences?
BP | It is so worth budgeting for this accessible service. I find captions to be beneficial to a wide audience. It makes our events inclusive of people who are deaf or hard of hearing but also elevates an experience that could be less than ideal, say, in an acoustically challenging church or helps aid understanding if a speaker has a heavy accent. I would also urge other organizations to aim for open captions (as opposed to closed captions on a device) so that they are integrated into the entire experience, and someone can see them from any seat in the house without having to self-identify. I would also urge organizations to make it easy and transparent for a person to request the service of open captions from your organization.
JCR | Please feel free to add any additional information you think would be helpful for the article.
BP | The Chicago Humanities Festival is a guest in over 40 venues per year, producing roughly 130 events per year. We try to make our events as accessible as possible by showcasing how to request accessible accommodations on our website when buying tickets, and our audience services representatives are trained to ask each ticket buyer if they require accessible accommodations as part of their order when speaking to people on the phone. While we haven't been able to afford to caption all 130 events just yet, we do budget for requests, pre-schedule captioning in venues that would benefit from them, and we are always fundraising and applying for grants hoping to increase the number of events with open captions. I also think it would be a logistical challenge to get realtime captioners at 130 events, since a demand at that volume would certainly exceed the number of qualified captioners in Chicago! I would love it if more colleges and trade schools provided a pipeline into this growing field of realtime captioning for accessibility.