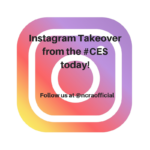 NCRA Technology Committee member Kelli Ann Willis, RPR, CRR, has taken over the NCRA Instagram account, @ncraofficial, this week from the Consumer Electronics Show (CES) in Las Vegas, Nev. We talked to her about what she is planning.
JCR Weekly | Tell us about yourself.
KAW | I am an international realtime court reporter. I have been reporting since 1983 and realtiming since 1994. I have been a techie since my teens.
JCR Weekly | What interests you about the CES?
KAW | CES is the Super Bowl of the tech world!  It is the place where all new technology is showcased. I have been watching reports from the CES floor for years!
JCR Weekly| What are you hoping to find?
KAW | I cannot wait to see the new TVs, computers, and anything else that catches my eye! I am going to be on the search for anything techie that can help court reporters.
JCR Weekly | What new technology do you think will be interesting to NCRA members?
KAW | Computers, cell phones, and AI will be a focus.
Be sure to follow us on Instagram at @ncraofficial to see what Willis finds.