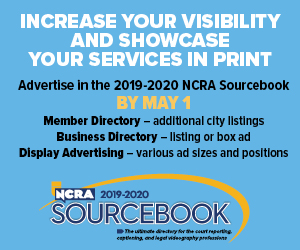 The May 1 deadline is approaching fast for submitting business directory listings or display advertisements for inclusion in the printed 2019-2020 NCRA Sourcebook. The NCRA Sourcebook is the premier directory of court reporting, captioning, legal videography, and other related service sources, making it the perfect resource to easily connect with the right provider for the job. It's distributed at legal industry events and at conferences held for people who are deaf or hard of hearing and is mailed to NCRA members and advertisers at the end of the summer.
Members are listed in this printed directory for free and can add their listing in additional cities for only $99 each. To really spotlight your business, however, exclusive to NCRA members is the opportunity to advertise in the business directory section of the Sourcebook.
"When we need to find a reporting firm in a city outside of California where we don't have a contact to rely on, we go to the NCRA Sourcebook to find a firm," said NCRA member Antonia Pulone, owner of Pulone Reporting Services in San Jose, Calif. "We advertise there because we assume other firms do likewise, and so they will find our firm for referrals in Northern California."
There are two options to choose from when considering promoting your company in the business directory. Advertisers who opt for a premium listing in the Sourcebook will be listed alphabetically by state and city. In addition, premium business ads also include the company's name, address, email address, website, and a description about the services they offer. Premium listings are available in black ink only for a cost of $250. For an additional cost, firms can also be listed under additional cities and states.
NCRA members also have the opportunity to upgrade their business listing to a box listing.The box listing includes everything in a premium listing but with the addition of a logo or photo, the option to list under multiple cities, and the option to use an original designed or JCR court reporting listing advertisement. In addition, box listings are available in full color ink. This option is only $395.
Other options include display advertising ranging from one-sixth of a page to an advertorial and a full-page display advertisement. Additionally, there is advertising space offered on the inside front, inside back, and back cover of the Sourcebook.
For more information about placing your ad and showcasing your business, download the NCRA 2019 Media Kit or email Mary Petto at mpetto@ncra.org.
---