The JCR provides newsworthy information on reporter-related products and technologies. This column is for readers to use in their research; neither NCRA nor the JCR endorse or critically review these products and services in any way. Statements of fact or opinion are the author's unless they are specifically identified as NCRA policy.
"Where is my cord?"
"Which one is which?"
If you have ever asked yourself these questions, then Recoil Winders is your must-have product!
Recoil Winders end the age-old problem of tangled, lost, and unidentifiable cords and cables once and for all. This cord organizer can finally solve cord clutter. Recoil Winders makes it easy to find, store, and organize all of the cords you carry. No more searching for the right charging cord or forgetting which cord belongs to which device; just label the face of the Recoil Winder with the name of the device for matching purposes. In addition, Recoil Winders prevent cords from getting tangled, bent, or torn from lack of a proper storage solution. This easy-to-use cord management tool makes earbuds or any other cord retractable.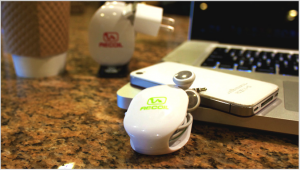 More information can be found in this video: www.youtube.com/watch?v=_RN36N-y57M 57M
Three recoil devices and stand priced as low as $13.99.
www.recoilwinders.com
Christine Phipps, RPR, is an agency owner in West Palm Beach, Fla., and a member of NCRA's Technology Review Committee.