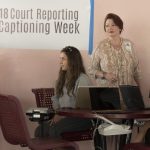 Schools and students from across the country participated in NCRA's student speed contest last month. The contest, which was part of NCRA's Court Reporting & Captioning Week celebration, garnered widespread involvement, with 182 students competing from all over the country. All students, from all court reporting schools, at any speed level, were invited to participate. All told, 17 court reporting programs had students compete in the contest. "My speedbuilding class quite enjoyed writing the student speed contest," said Barbara Ladderud, a teacher at Green River College in Auburn, Wash. "Thank you for putting this together as a fun way to promote Court Reporting and Captioning Week."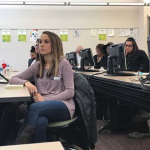 For this speed test, students had the choice of taking a Literary or a Q&A test consisting of five minutes of dictation. Test takers took the test at a speed level they were working on or had just passed and must have achieved 96 percent or higher accuracy to be eligible to win a prize. Because the contest was open to students at all levels, schools were able to have many or all of their students involved. "Thank you very much for this opportunity," said Joanne McKenzie, a teacher at Northern Alberta Institute of Technology in Edmonton, Alberta. "We made it a requirement for all students to participate." The tests, which were written by Debbie Kriegshauser, FAPR, RMR, CRR, CLVS, CRC, a member of NCRA's Student/Teacher Committee, were intended to push the students. Kay Reindl, CRI, an instructor for Humphreys University in Stockton, Calif., reported that, although "these were pretty challenging tests….most attempted the tests at their targeted speed."
Of the 182 students who competed in the contest, 42 passed the test. "My students didn't get 96 percent on either test," reported LaTherese Cooke, a teacher at South Suburban College in Oak Forest, Ill., "but they gave it their best." Three of those who past were chosen at random to receive first, second, and third place prizes. First prize, or the gold medal, was awarded to Kelsie Alford of Green River College. Second prize, the silver medal, went to Julie Drew of Northern Alberta Institute of Technology, and third prize, bronze, was awarded to Samantha Marshak of Realtime Center for Learning, Inc. in Garden City, N.Y.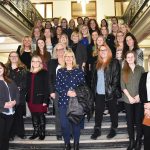 Teachers and students alike were enthusiastic about the experience. "What fun we had! Thank you for the great idea and enthusiasm it generated during Court Reporting and Captioning Week," said Joan Rikansrud, a teacher at Green River College. "Thank you again for including us in your contest and for all that you do!" echoed Carrie Ravenscroft, Cypress College in Cypress, Calif.
NCRA would like to showcase the hard work that students and schools are doing to promote the court reporting and captioning professions. Below are the names of all the students who participated in this year's contest. Students marked with an asterisk passed the test with 96 percent accuracy or higher.
Arlington Career Institute
Grand Prairie, Texas
Allie Handlon
Deborah Quarles
Emelia Mullen
Jazzmen Garcia
Jennifer Ferenz
Rosalind Dennis
Sunshine Nance
Atlantic Technical College
Coconut Creek, Fla.
Alison Dituro
Ashley McCormick*
Carolina Rivas
Courtney Carpentier
Jenna Xarhoulakos
Lindsey Polin*
Samantha Kutner
Shawn Condon
Brown College of Court Reporting
Atlanta, Ga.
Amanda Bilbrey*
Amanda Bilbrey*
Andrew Shin
Brianna Shelton*
Connor Tatham
Crystal Foster*
Josie Thompson
Nicole Willoughby*
Nicole Willoughby*
Shannon Miles *
College of Court Reporting
Valparaiso, Ind.
Angela Viray
Ashly Richter
Brian Nelson
Desssalyn Kimbrough
Jennifer Hall
Kate Hargis
Kolby Garrison
Lori Ingram
Macy Thompson*
Megan Bowman  
Shaylene Mofle*
Cuyahoga Community College
Parma, Ohio
Devon Sneve
Kristina Carmody 
Teresa Nero
Vanessa Feistel
Cypress College
Cypress, Calif.
Eun Young (Joyce) Kim
Des Moines Area Community College
Newton, Iowa
Liz Ostrem*
Lonnie Appleby*
Sarah Muff*
Downey Adult School
Downey, Calif.
Jennie Ramos
Jenny Yi
Green River College
Auburn, Wash.
Abby Markson
Alexandria Fleming*
Doug Armstrong
Evelyn Jaimez
Heather Game*
Justin Choi*
Kari Derr
Kelsie Alford*
Lindsey Gruntorad
Michelle Overby
Sara Baxter*
Sarah Webb*
Sierra Zanghi*
Spencer Holesinsky*
Svetlana Golub
Hardeman School of Court Reporting
& Captioning (online)
Amy Plaxton*
Angela Cakridas
Brooke Taylor*
Casey Veinotte
Chelsea Morris*
Kaitlin McGowan*
Nick Mulvoy *
Humphreys University
Stockton, Calif.
Araceli Nava
Brittny Boya
Emma Pesusic
Kate Mendoza
Leslie Orr
Ngia Her
Sarah Glover
Lakeshore Technical College
Cleveland, Wis.
Abigail Fowler
Calisa Barta
Catherine Ray
Chad Hirsch
Megan Baeten*
Meredith Seymour
Michelle Miller
Nicole Whelihan
Stacie Pomrening
Macomb Community College
Clinton Township, Mich.
Alexa Lupenec
Cheryl Demanski*
Robert Ludwig
Tonia Miller
Northern Alberta Institute of Technology
Edmonton, Alberta, Canada
Abby Robinson
Amanda Hebb
Ariana McCalla*
Ashley De Marco
Bradley Morrison*
Brent Hannam*
Carly Fenske
Christine Rees
Dakota Chartrand
Dayna Canning
Diego Jiles
Dina Vasylevsky
Dyana Pewarchuk
Eileen Johnson
Ester Horvath
Jada Babiuk
Jalene Hutseal
Jameca Nguyen
Jayne Yuill
Jillian Pumphrey
Julie Drew*
Kayla Hotte
Kelcy Sherbank*
Kim Nguyen
Kristina Zeller
Laura Collis
Laura Driscoll
Linsey Eby
Lora Zabiran*
Martina MacFarlane*
McKaya Baril*
Meagan Gibson
Megan Galloway
Melinda Heinrichs
Michelle Gulka
Michelle Klatt*
Michelle Stevens
Nancy Phong
Netannys Turner-Wiens
Nicole Leddy
Presley Thomson
Sarah Pfau
Shauna Lagore
Stephanie Jabbour*
Stephanie Marocco
Yazda Khaled
Plaza College
Forest Hills, N.Y.
Brittany O'Brien
Christina Valentin
Connie Hwang
Dominique Burke
Elisabeth Dempsey
Elizabeth Keating
Ferrina Johnson
Floriana Krifca
Gabrella Tutino
Hazel Elardo Asca
Jerrica Nieves
Justin Centeno
Justine Torres
Kayla Jacobs
Kimberlee Clifford
Lakesha Dubose
Letitia Caceres
Maia Morgan
Melissa Colon
Paradise Rosario
Pashen Hutton
Patricia Alexander
Radhika Rampersand
Ramona Perez
Raven McCants
Rebecca Pierre-Louis
Ruby Mitchell*
Sophian deFrance
Tambra Whitfield
Violeta Marashaj
Yvonne Panigel
Realtime Center for Learning, Inc.
Garden City, N.Y.
Antonia May*
Debbie Babino
Gabrielle Carletti
Joe Altieri
Lisa Previti
Samantha Marshak*
South Suburban College
Oak Forest, Ill.
Amanda Castaldo
Candace Bradley
Cascidy Bandyk
Casey Toomey
Elizabeth Crossin
Hannah Flynn
Jennifer Blum
Kelsey Mikos
Lilly Martlink
Marla Peteet
Valencia Reed