By Deanna P. Baker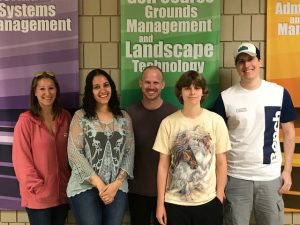 Six students, all from Anoka Technical College, attended the Hearing Loss Association of America (HLAA) conference I was captioning to learn more about the practice of captioning. It was wonderful to get to know this group of students. I had captioned this event for 25 years in a row, and I loved sharing my experience with the students that came out those days.
Since the HLAA conference was held in Minneapolis, Minn., two of the local captioners on the team, Angie Sundell, RMR, CRR, CRC, and Lisa Richardson, RPR, CRR, CRC, who are also on the advisory board of Anoka College, worked with Anoka Tech reporting instructor Jennifer Sati, RMR, CRR, CRC, CRI, to invite local students to shadow at the annual HLAA conference. We thought it was a great chance for the students to write some sessions – for their own personal benefit – and see CART captioners and their team at work. And several of them really jumped at the opportunity.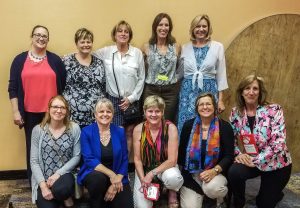 My thanks go to all of the people on the captioning team who not only rocked the HLAA conference this year but made this a great experience for the students. In addition to myself, Angie, and Lisa, our team consisted of:
Kristi Arntzen, RPR, CRR
Jayne Carriker, RPR, CRC
Lisa B. Johnston, RMR, CRR, CRC
Lori Morrow, RMR, CRR, CRC
Whitney Riley, RPR, CRR, CRC, CRI
Lori Yeager Stavropoulos, RPR, CRR, CRC
Megan Stumm
Sharon K. Vivian, RPR, CRR, CRC
Scott Smith, who provided technical support for our CART captioning team
When I reached out to the students after the HLAA conference, I asked them several questions, from why they volunteered to what they expected and what they learned from the day. All of them said that it was a true learning experience, and for several it either reinforced for them why they were working so hard to graduate or it gave them new insight into the opportunities that lay ahead for them.
Here is a little of the experience through their eyes.
Expectations vs. reality
I asked the students what they expected and how the actual experience matched or differed from their expectations.
"I anticipated a lot of stress and not much interaction with the CART provider because of the nature of the job," said Kaurie Jeske, one of the Anoka students. "That was not the case! Before the job I was introduced to the CART provider, who seemed very happy to let me sit in and learn. Other members of the team providing services elsewhere also came and went before the ceremony started, and I came to understand what a close-knit group of people this group really is. Everyone seemed genuinely excited that students were coming in to shadow them."
"I was expecting everyone to be talking so fast that I wouldn't be able to keep up at all, and I was a bit nervous about the whole experience," said Ryan Judge. "We were told beforehand that nobody was going to be seeing our writing, which helped a lot with the anxiety. When I got there, everyone was so nice that all the leftover jitters faded away."
"When I got to the convention and started writing, the professional calm that the captioners exuded immediately put me at ease," said Samantha Robinson. "They assured me that with practice and dedication that I would be able to do this after graduation."
"It was mostly in line with what I had heard about captioning, except both the ability of the reporter and speed of the dictation she had to write was very impressive," said Megan Bidney. "I was expecting more drops or paraphrasing, but there was nearly none of that."
A test of skills
Because the point of the students coming out was to learn more about themselves, I wanted to know what they were going to put into action moving forward. All of them found that the experience reinforced what they already knew they could do, and many of them responded with plans to double their efforts on certain aspects of their training.
"It was a true test of my endurance level," said Davis Wille, another one of the students. "Seeing firsthand the stresses involved with handling technology at a live event was definitely somewhat anxiety-inducing. I expected this issue might be a deterrent for me wanting to explore the CART field, but watching Lisa and Angie remain calm and level-headed reiterated that it's simply part of the job. It's manageable when you've had plenty of experience behind you. It's a field I'd be much more curious to explore now."
Judge agreed: "I think the biggest thing I am going to do is work on endurance. There were certainly some points where I was getting quite uncomfortable and wanted a break, but you can't just stop when you're on the job."
"I will be focusing on accuracy! I have never been the cleanest writer, but I can read through my blunders," said Jeske. "Now I am tailoring my practice more to focus on being accurate and getting a lot more out of my practice time."
"The biggest difference I noticed was that the captioner I worked with would include flourishes such as 'applause' and 'laughter' to convey the reaction of the audience," said recent graduate Tom Piltoff.
The big take-away
When I asked what they had learned by attending the convention, the students' replies were varied.
"That the steno community is huge and welcoming," said Piltoff. (I think this is my personal favorite, and I'm glad that these six students were able to experience the camaraderie that is part of this profession so early on in their careers.)
"I learned that I need to continue practicing more to be at that level, but also that it is actually possible to write at that level," said Bidney.
"The most valuable lesson I took away was that it isn't impossible to keep up with the speaker if I just calm down and focus on writing," said Judge.
"I heard so many stories from the award presenters and the recipients about the need for these kinds of services," said Jeske. "I want to be part of something that makes me feel like I'm making a positive impact in the world. This profession definitely does that."
"The most valuable lesson I took away from the convention was just how thrilled everyone was to see us in attendance and in action," said Wille. "The attendees were so clearly grateful that I was given an overall boost of confidence in what career path I've chosen to enter. It was very exciting."
"The most valuable thing I took away from this experience is more confidence in myself. I thought it would take me years to get to the point of being able to provide near-flawless captions, but I feel now that I can and will be able to do this sooner than I thought," said Robinson. "After sitting in with these amazing reporters, I feel like this is exactly what I want to do."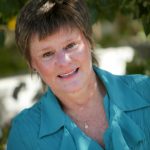 Deanna P. Baker, FAPR, RMR, is a realtime captioner and captioning consultant based in Flagstaff, Ariz. She can be reached at dpbaker@mindspring.com.