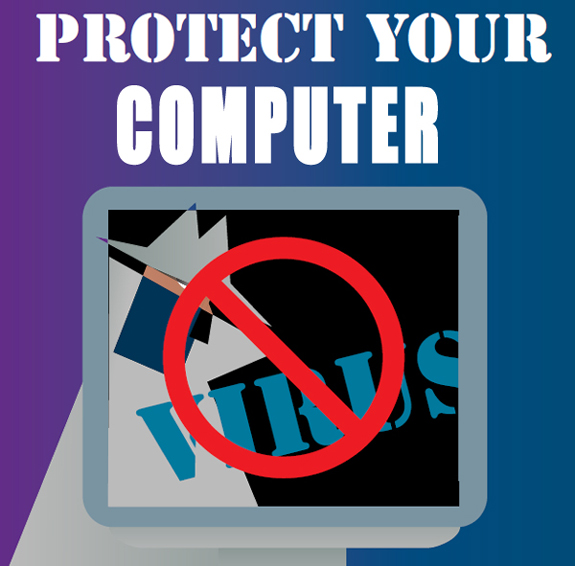 Antivirus programs can protect your computer,
but which one is best for you?
While it is important to protect your computer from viruses, malware, and spyware, the wrong antivirus software can slow down your computer or interfere with your ability to realtime or caption. How can you balance protecting your computer with great computer performance?
First things first
Members of the Technology Evaluation Committee took up this question. All of them agreed that your first source for information should be your software vendor. To assist you in figuring out what antivirus software to put on your system, we asked the major CAT software companies what works best with their programs (see chart below).
Several of the vendors also noted that the settings for the program make a difference. So, if the antivirus program is slowing down your computer, one of the first things you should do is check the settings to see if it can make your CAT program an exception. Further information may be available through your software vendor.
Free antivirus software
Most of the Technology Evaluation Committee members use one of the major free programs, with several people mentioning AVG, Microsoft Security Essentials, and ESET NOD32 (see chart for additional notes). However, a few of the committee members take a belt-and-suspenders approach to antivirus protection and run more than one program. For instance, G. Allen Sonntag, RDR, CRR, of Oro Valley, Ariz., runs both Microsoft Security Essentials and AVG on his system. "I let Win 7 run Microsoft Security Essentials, which is free and part of the OS. I use AVG Free version, and I've never had a virus problem in the past few years, certainly since working on Win 7," says Sonntag.
Pay for protection
"I use the less intrusive Microsoft Security Essentials software and augmented it with a program called malwarebytes, which is an anti-malware program. I chose to augment with the malwarebytes after lots of research and reading recommendations from some leading computer magazines. The great thing about using this combination is that once you purchase the Pro version of malwarebytes, it gives you a lifetime license for all future updates for it, no yearly fee, and currently that's $24.95. That means you have the free protection from Microsoft, augmented by a one-time cost for the malware program," says Sue Terry, RPR, CRR, of Springfield, Ohio.
And while some antivirus programs are just a free download away, Terry isn't the only one to put money in to keep her computer clean.
Kim Neeson, RPR, CRR, CBC, CCP, of Toronto, Ontario, and Christine Phipps, RPR, of West Palm Beach, Fla., chose Norton 360 Premier 2013. Phipps says that Norton has a few additional advantages, such as storing passwords for browsers and offering 25 gigs of free online storage.
Nancy Bistany, RPR, of Chicago, Ill., uses prevx.com. "I purchased it several years ago at the recommendation of one of the executives at Stenograph, and I have never had an issue with it interfering with my hardware/software interface, especially in a realtime writing environment," she says.
Robin Nodland, RDR, CRR, of Portland, Ore., says that her company uses Trend Micro Worry Free Business Services, an outside service that provides a hosted antivirus solution for smalland medium-sized business. While this option isn't for everyone, Nodland notes that it comes with a lot of extras:
Web-based administration
Centralized control and settings
Keyword filtering
Attachment filtering blocking
Alerts via email
Outbreak defense
Proactive Web filtering to block known (triple verified) bad websites
Minimal impact on the local system
Choose your browser
A few people mention that choosing browsers carefully plays a role in protecting computers from viruses. Sonntag also mentions, "I use Chrome for my browser, and I find its sandboxing technology to be great in protecting me from bad stuff."
Others find using a less well-known browser, such as Safari or Firefox, protects them from attack, because viruses are usually built to attack the most well-known program.
Christine Phipps, RPR, of West Palm Beach, Fla., who uses Firefox as her browser, says, "Downloads from the Internet go into a 'Downloads' folder first. All downloads are then checked by [my antivirus program] Norton, which will give me a 'Safe to proceed' message before continuing on with the installation process."
One final note about antivirus software from the group is to remember to run updates for the program — whichever one you choose. Most of the companies update the list frequently as new viruses are developed or old viruses try new tactics. As Sandy VanderPol, RMR, CRR, of Lotus, Calif., says, "I've never had a virus, but I'm careful to have [the program] on auto update and run it.
VENDOR RECOMMENDATIONS AND SETTINGS
What the CAT software companies recommend
Software (company)
Recommended antivirus program
Additional comments
Cost
Case CATalyst
(Stenograph)
Any antivirus software
If errors occur, check your computer settings per "Avoid 'CAT'astrophe
with your antivirus."
Varies
digitalCAT
(Stenovations)
Microsoft Security Essentials (microsoft.com) and Avast (avast.com)
According to the company, the antivirus programs that seem to conflict with digitalCAT are Norton,
McAfee, and Trend.
Both recommended programs are free.
Eclipse
(Advantage Software)
Almost all antivirus software works with Eclipse, but the company recommends Microsoft Security Essentials (microsoft.com).
New viruses mean that antivirus software companies are always updating their programs, so updating their programs, so conflicts between antivirus software and CAT software can occur unexpectedly. For that reason, what works today may not work tomorrow. Advantage recommends Security Essentials because "no one is more motivated than Microsoft to quickly identify and resolve potential threats."
Free
Winner
(ProCAT)
AVG (avg.com)
The company suggests users to make Winner an exception within AVG.
Free

ANTIVIRUS SOFTWARE CHOICES
Antivirus Program
Website
User comments
Cost
AVG Antivirus FREE 2013
avg.com
Lisa Knight, RMR, CRR, says, "I have never had an issue with it interfering with my realtime or other important aspects of my job."
Free
ESET NOD32
eset.com
Jim Woitalla, RDR, CRI, says, "I like that it's not a resource hog, doesn't interfere with realtime, and provides excellent protection while surfing the net and filtering email."
Free
Microsoft Security Essentials
Go to Microsoft.com, type in 'Security Essentials,' and find the download page for the free download.
G. Allen Sonntag, RDR, CRR, says, "It's easy on the CPU and usage cycles."
Free
Norton 360
Premier 2013
Norton.com
Kim Neeson, RPR, CRR, CBC, CCP, says, "Norton was recommended by my computer technician, and I have not had any issues with it interfering with any of my court reporting work."
One year of protection for up to three personal computers is $59.99.
Prevx
prevx.com
Nancy Bistany, RPR, "I have never had an issue with it interfering with my hardware/software interface, especially in a realtime writing environment."
The cost varies, but it runs approximately $30 for a year.
Trend Micro Worry Business Services
trendmicro.com
Robin Nodland, RDR, CRR, says, "As a company, we no longer have to update software or definitions; it's all handled  automatically and unnoticed by the user. "
About $28 per computer per year, according to Nodland.
Avoid "cat"astrophe with your antivirus
By James Kuta
For the vast majority of us, the antivirus software we use was already installed on the computer we purchased. Fortunately, Case CATalyst is compatible with all major antivirus software you might be aware of and a few you may not. Unfortunately, every antivirus, on occasion, interferes with the normal operation of software you want to use. The good news is a few simple setting changes can keep Case CATalyst from falling victim to well-intentioned yet overly protective antivirus software.
Adding an exception
Virtually all antivirus software gives you the option of excluding a program from its realtime scanning. This is commonly called "adding an exception." The goal of the realtime scanner is to monitor the creation and modification of files and then block any perceived threats. By excluding Case CATalyst from realtime scanning, you lessen the likelihood of the antivirus interfering with the normal creation and modification of your jobs.
Each antivirus has its own steps for adding an exception and an Internet search or visiting your antivirus' website will give you the steps needed. If your antivirus allows you to exclude a folder from realtime scanning, exclude the C:\CAT4 folder. CAT4 is the default Case CATalyst installation folder. If you installed to a different directory, exclude that directory instead. If your antivirus only allows for files to be excluded, exclude the CaseCATalyst.exe; it will be located inside of the Case CATalyst installation folder.
Scheduling an automatic full scan
In addition to realtime scanning, antivirus software performs what is commonly called a full scan. A full scan can take a long time to complete and uses significant computer resources, the same resources Case CATalyst needs. The goal of a full scan is to identify a threat anywhere on your computer. Typically, a full scan will start automatically at a scheduled time daily or weekly. You don't want this scheduled time to be when you need those computer resources for Case CATalyst.
Again, each antivirus has its own steps for enabling, disabling, and scheduling an automatic full scan. What's important is that you configure your antivirus to run the full scan on a day or at a time when you do not expect to be using Case CATalyst.
James Kuta is Stenograph's product manager.