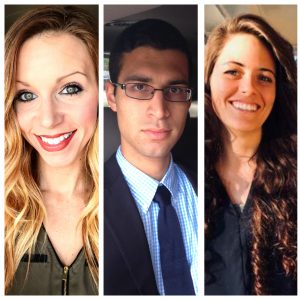 The National Court Reporters Foundation (NCRF) is now accepting nominations for the Frank Sarli Memorial Scholarship and the Student Intern Scholarship. The deadline for both these scholarships is Dec. 10. Beginning this year, both scholarship opportunities are open to NCRA student members enrolled in any court reporting program, not just NCRA approved programs.
Frank Sarli Memorial Scholarship
NCRF's Frank Sarli Memorial Scholarship of $2,000 has benefited court reporting students nearing graduation for 20 years. The award honors the late Frank Sarli, a court reporter who was committed to supporting students at the highest level of their education. Sarli, who was studying to become a professional pianist, turned to court reporting when he could no longer afford the tuition to music school. During his career, he opened Accurate Court Reporters in Orlando, Fla., Orange County's first independent court reporting firm, and was a founding member of the Florida Shorthand Reporters Association. Sarli also served in numerous roles at the national level, including as a director for NCRA. He was the first Floridian to earn NCRA's Distinguished Service Award.
"I chose to be a court reporter because I wanted a job that has a relatively flexible schedule to permit me to do volunteer work and dedicate time to being a minister," said Jared Orozco, a student from Sheridan Technical College in Hollywood, Fla., and recipient of the 2017 Frank Sarli Scholarship.
"After I finish school, my ultimate goal would be to work in transcribing sermons to expedite their translation so it can be of benefit to people all over the world," he added.
Court reporting students must be nominated by an instructor or advisor and meet a number of specific criteria to be eligible, including:
enrollment in a court reporting program
passing at least one of the court reporting program's Q&A tests at a minimum of 200 words per minute
having a GPA of at least 3.5 on a 4.0 scale,
demonstrating the need for financial assistance
possessing the qualities exemplified by a professional court reporter, including attitude, demeanor, dress, and motivation
Submit a nomination for the Frank Sarli Memorial Scholarship.
Student Intern Scholarship
Each year, NCRF awards two $1,000 scholarships to students who have completed or are currently performing the required internship portion of their court reporting program. They must also meet other specific criteria, including:
enrollment in a court reporting program
current membership in NCRA
having a grade point average of at least 3.5 on a 4.0 scale
A generous annual donation from the Reis Family Foundation helps fund these scholarships.
"Court reporting has always been the one job that has stuck out in my mind as my 'dream job.' I was always discouraged from going into this career because people are very misinformed about the opportunities available for a court reporter," said Summer Vaughan, a student from College of Court Reporting in Valparaiso, Ind., one of two recipients of the 2017 Student Intern Scholarships. "Once I began my court reporting internship, I knew I was right where I had always wanted to be," she added.
Submit a nomination for the Student Intern Scholarship.
NCRF's scholarships and grant are supported by donations to the NCRF Angels Drive and other fundraisers. To learn more about these scholarships, and to find the nomination forms, please visit NCRA.org/NCRF.